Say goodbye to guesswork and hello to strategy!
To help our client stay ahead of their competition and make the most of their business, NewIntelligence customized our Sales Budgeting & Forecasting module currently integrated with QuickStart for SAP Business One to better suit the needs of our client.
This customization involves not only forecasting the overall performance of a product, but also seeing how that product is performing at a specific Ship-To. This helped our client gain more visibility on the products they're selling, so they can make smarter decisions on what to focus on and how to tailor their sales strategies across different locations.
By leveraging our expertise in data analytics, we were able to provide insights and enable our client to fine-tune their reporting capabilities to suit their specific needs.
Budgeting 101 with IBM Planning Analytics
Budgeting tactics typically capitalize on Planning Analytics and involve looking at last year's numbers as a starting point, then using that number as a basis to forecast for the following year. Adjusting or lowering last year's number by the desired percentage gives the forecast sales prediction for the following year.
Developing a More Customized Budgeting Overview.
Valuing the ability to forecast strategically for their business, our client wanted to customize the Sales Budgeting & Forecasting module currently integrated with QuickStart for SAP Business One in order get more visibility on their business and the products they were selling.
This involved not just the overall forecasting of how a product was selling, but rather how a specific location (Ship-To) was selling that product. This enabled NewIntelligence to fine-tune the reporting ability of our Sales Budgeting & Forecasting module and pull the data on a more granular level, customized to the needs of our client.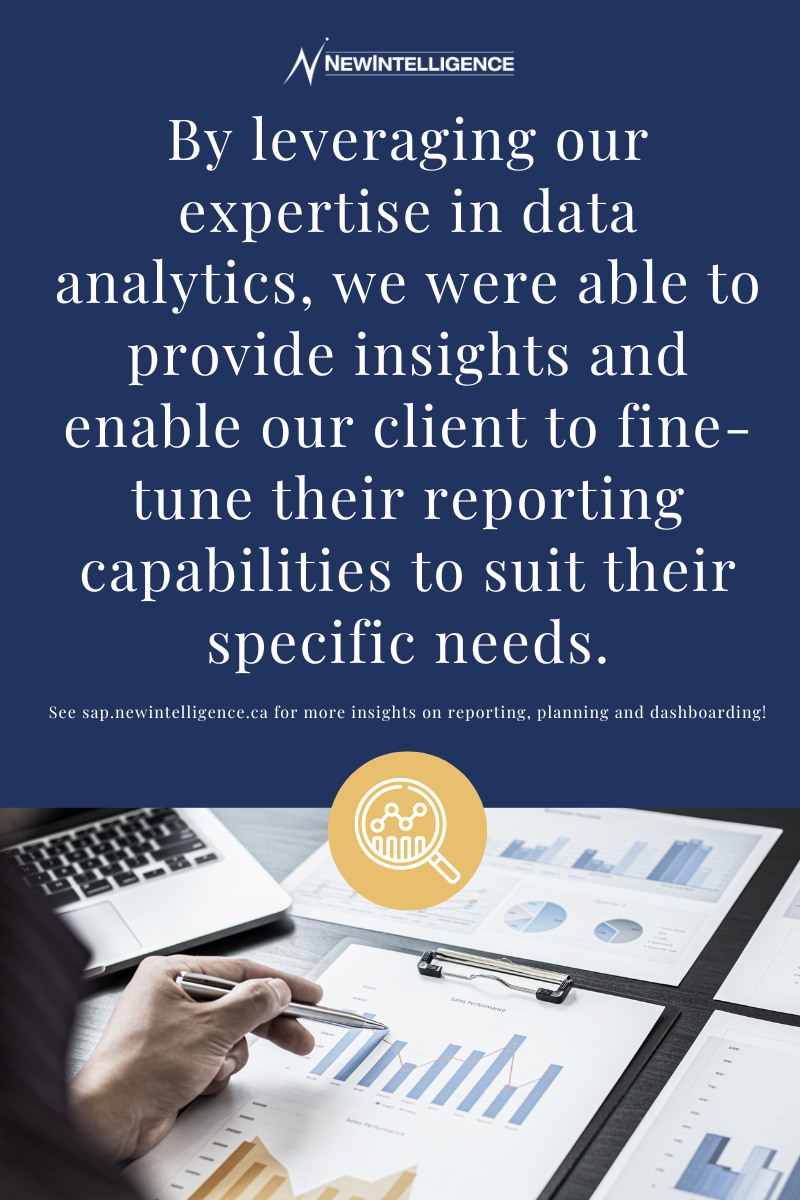 Our Sales Budgeting Module for SAP B1
The Sales Budgeting module for SAP Business One allows users to access their sales transactions at various levels of granularity, such as Ship-To, Item, Salesperson, Customer, and so forth.
However, where a customer has thousands of products with thousands of customers, there can be a lot of different combinations. The customization of the module therefore provides greater visibility in the budgeting process, making sales forecasting more proficient in detailing specific requirements in the desired and ever-evolving reporting activities.
How We Changed the Module for Ship-To Locations
To change the way we looked at sales budgeting for our client, we moved away from the Ship-To level and focused on the customer group level.
Inside the SAP Business One platform, "Ship-To" belongs to "Sold-To", "Sold-To" then belongs to a "Customer Group", and in more colloquial terms, those are the store locations we are after. As such, we moved to examining the sales transactions at the precise Ship-To location.
Forecasting Items with Walmart as an Example
When considering a company like Walmart, we are not looking at just a few dozen stores. As of 2023, Walmart is listed at having over 400 stores in Canada, and over 4000 in the US. Did you know that Texas (with 516 locations) has more Walmart stores than the entire country of Canada? Therefore, the precision to align the right data to each store location (aka Ship-To) becomes useful in a Sales Budgeting and Forecasting model, such as the one desired by our client.
Budgeting Items at Walmart
Next, we looked at last year's history for Walmart's 2022 Actuals, and at the sales of a particular item.
We looked at the Ship-To level at all the individual store locations that were selling that particular item.
But examining the data at a Ship-To level, is much more granular than the Group level, and it showed an enormous amount of Ship-Tos for a company like Walmart.
Breaking Down Data for Better Visibility
With the Forecast provided at the higher level of Customer Group, such as Walmart on the whole, we can allocate down to the Sold-To and Ship-To based on the percentages done the previous year. Analyzing the figures and breaking down the total number of units sold each year is a part of the standard budgeting process.
Let us suppose, Walmart sold 8,000 units in the preceding year. Then, we can inspect every Ship-To with sales and calculate the percentage. For example, when Walmart sold 8,000 units in January, we can focus on one Ship-To which sold 2,000 units in the same month. Then, we can divide 2,000 with 8,000, the total units sold for that Ship-To, and acquire the percentage.
If we plan to forecast 12,000 units to the Walmart Group in January, we can then allocate the percentage distribution from last year for that one particular Ship-To and item combination (2000/8000 =25%). 25% x 12,000 = 3000 units for the forecasted period.
Then, according to the above-mentioned predictive knowledge, we can forecast that there will be 3000 units sold in the forecasted period for that Ship-To and Item. This model would then be applied at all levels.
Pro-rating numbers from 'Group' to Ship-to level: A success story
Accurately forecasting revenue metrics at the Ship-to is key for any successful business. However, getting reliable data is not always easy.
QuickStart for SAP Business One analyzed our client's desire to do budgeting at the Group Level numbers and used last year's actuals to prorate down to the Ship-To Level, enabling them to compare what is the forecast in 2023 with the actuals that will be shipped out.
By proactively utilizing available data and being creative with our approach, we were able to provide our client with accurate reporting and reliable insights on their Ship-To performance with the simple customization of the Sales Budgeting module.
Better Visibility for SAP Business One Customers
At NewIntelligence, we understand the importance of visibility when it comes to managing your business. That's why we're proud to provide SAP Business One users with custom Sales, Budgeting, and Forecasting modules, designed to give you the insight you need to make informed decisions.
Our goal is to empower our clients and keep them informed while improving reporting capabilities, so they become more self-sufficient in the long run.
Click the link below for more info on how we can help you analyze data better.