Cognos Analytics Release 7 (R7) is here!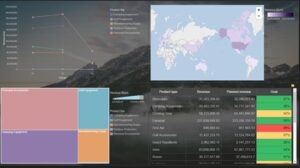 Article published on September 26th, 2017
Cognos Analytics  Release 7 (R7) was released on August 24, 2017, with many changes to the solution.  It features a new UI for Portal, Dashboard and Modules, filter enhancements in dashboards and reporting, additional visualizations, a new logging framework and now supports an updated version of PowerPlay 11.
Home Page
Redesigned Welcome page
Quick reference links – easier to get started
Recent items tiles
Content Navigation
Redesigned navigation pane
Single panel – now stretches (you can resize window)
Names automatically adjust to best fit available width
Dashboard – General
Create navigation paths on the fly (prior versions required navigation path creation in the Data Module)
Dashboard – Filter Enhancements
Filter dock above canvas

Frees up canvas
Widgets not affected by highlighting
Checkbox, sliders, hierarchy tree

Conditions-based filters (begins with, ends with, contains…)
Top/bottom on n values or percentile
Dashboards – Advanced Calculations
Invoked from single or multiple values
Simple and advanced calculations
Expression editor for more complex calculations
Dashboards – Visualization Enhancements
Measures as attributes on axis
Values on charts
Multiple attributes per label
Others

Additional nested edges on crosstabs
New visualizations (Network, 100% stacked charts)
Better label placement
Storytelling
Animated Path – Allow transitions to keep items on screen while directing focus to another area
Image upload extension – Administrator controlled library of images uploaded via extensions that can be used across dashboard and stories
Reporting
Maps in standard reports

Supports two independent or joined layers
Pan & Zoom, Tooltips, maps styles
Warning dialog show all unmatched locations

Navigation groups from data modules

Navigation groups visible under Data items tab of metadata panel
Supports navigate to any levels defined in a data module

Interactive filtering panel in viewer

Overview of all filters applied to the current report
Allows direct editing
Dynamically highlight report objects with each filter

Users can download an Active Report directly within viewer
My parameters

Can filter multiple reports using the same parameter values

Administrator sets default values at Role level
Supports importing parameters from existing reports
Users can override default parameter values

Package based drill-through

Directly available in Interactive viewer
Detailed selection context information
Supports upgraded package based drill-through reports running with full interactivity set to yes
Supports C10 dynamic filtering

View tabular data in all supported formats
Ability to group repeating cells when export to Excel
Interactive performance assistant

Shows querying and rendering performance on report objects
Available in HTML format in both viewer and preview mode within authoring
Also includes detailed information on Host machine name, Process ID, Session ID, Request ID and Hop count
Find performance issue earlier – Discover the performance issue right at the beginning of the report design process
Find performance right at the moment – Ideal to trouble shooting random production issue
Live data view – Experience performance during live view report authoring process
No Cost, or little Cost – No configuration, no additional resource required
Text measures in crosstabs (common in TM1 cubes)
Planning Analytics connections within Manage area
No need for legacy Cognos Administration interface
Ability to create data modules on selected cubes
Logging Framework
Advantages:

No more naming files: ipfaaaclientconfig.xml.sample
No more restarting of services

Types of Logging

Session Logging – User session for reproducible problems
Diagnostic Logging browser-based administration – use for intermittent or service-specific problems
Interactive Performance Assistant Logging
IPA customers self diagnose performance or tuning related issues before logging a PMR
Report Performance Challenges in a Distributed Environment
Installation options
No requirement to install, configure and start the content manager

All tiers available
Connect and install available
Security update
Everyone Role removed from everywhere but System Administrator
New Cognos Roles map directly to new CA11 Licence feature
Customers upgrading don't lose anything
New customers get new model
Recommend customers start using new roles
Multi tenancy updates – improvements & capabilities
PowerPlay 11
Updated versions of PowerPlay Windows client, PowerPlay Studio, and Transformer

Updated O/S conformance, including Windows 10
Updated browser conformance for Chrome, IE, and FireFox
Functionally the same as 10.2.2 products

PowerPlay reports and report views integrated into Cognos Analytics portal

Reports/studio run in separate browser tab(s)

Separate installation for PowerPlay products, uses CA portal
On PowerPlay Server startup, PowerPlay Studio immediately available in Cognos Analytics
Not on the latest version of IBM Cognos Analytics yet?  Need some help with your migration?  Read more about NewIntelligence's migration expertise in our Migration Services section.