IBM released Cognos Analytics 11.1 on September 29, 2018.  This all-new version allows you to instantly transform your data into relevant insights using augmented intelligence (AI), machine learning (ML), pattern detection, data science and more.
Unlike other analytics solutions that only show what is happening across your business, IBM Cognos Analytics goes further, using AI to gain insight on why it happened.
Top Cognos Analytics 11.1 Capabilities
BI that is truly AI-driven
The biggest change to Cognos Analytics 11.1 involves the integration of the Watson Analytics 'smarts' which will provide the ability to see natural language details on the right-hand side of the user's visualizations.  Users will also be able to see related visualizations ("Netflix/Amazon menu-style") as Cognos Analytics uses your gestures to make recommendations, i.e. machine learning adapting to the user's behaviour.  As a result, Watson Analytics and Watson Analytics for Social Media will be deprecated in mid-2019, as Watson Analytics has evolved over time since it's inception and was rebuilt from the ground up inside of Cognos Analytics 11.1.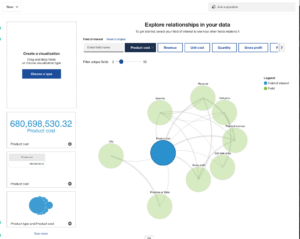 Improved data preparation for analytics
In its initial release, Cognos Analytics introduced the concept of the data module: a web-based, simple modeling interface intended for power users or administrators to connect, map, and associate data sources.  However, some necessary key features were missing that are now available in this version, including data security, data wrangling and cleansing features (such as splitting columns), and support for uploading multiple excel sheets (split into 'tables').
Note that Framework Manager, the legacy powerful enterprise metadata modeling tool, is still supported by IBM and there are still plans to enhance it. However, customers will need to evaluate on a use case basis if a data module is a better fit in terms of support, factoring in deployment, usability and management strategy.
Enhanced Dashboarding
Previous releases of Cognos Analytics offered dashboarding capabilities using a self-service interface.  The experience was highly interactive, however slightly too simplistic and limited for some use cases that required more granularity.  Cognos Analytics 11.1 has added many new features to help deliver more flexible and detailed dashboards and effectively leverage available real estate, including:
Font and value format/control;
Custom color palettes;
Advanced analytics and statistical visualizations;
Show data for individual widgets;
The long awaited 'lasso' on maps and other correlation charts, allowing users to select an area of data points as filter
Probably one of the most exciting, innovative features is the new AI assistant which uses natural language.  Users will be able to ask questions such as 'show me the data available', or 'show me the revenue for the product line', and the assistant suggests the visualization best suited for the context requested.
IBM has partnered with Slack, a teamwork collaboration platform, that easily integrates across devices and browsers, to further improve collaboration amongst users, who will be able share content and comments in direct messaging once configured.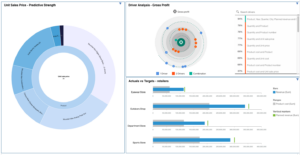 Better Report Authoring to Improve Productivity
Report authoring has always been one of the Cognos Analytics platform's major fortes.  In this new release, report distribution is enhanced with features to optimize productivity such as:
Addition of smart layout and grid/snap tools;
Navigation UI for quick access to contractual tools and properties;
Copy / paste ability from any report part into a dashboard;
Reusable styles;
Custom color palettes;
New visualizations.
Conclusion
Why Cognos Analytics 11.1 may now be at the Front of the Advanced Analytics Pack
With this promising new generation of Cognos Analytics, you can have it all: advanced analytics, guided exploration and suggestive insights, all in an integrated and easy to use interface.  User-friendly enough to introduce the concept of advanced analytics to beginners, while powerful enough to assist business analysts in discovering insights and stories about their data.  Watch Why Choose IBM Cognos Analytics 11.1 to find out more.
All of this is available in one easy-to-use enterprise platform offering, complete with the governance, security, and scalability.  It's available today on Cloud, with the on-premise offering coming soon at the end of 2018/early 2019.
Contact NewIntelligence to see a demo of the new IBM Cognos Analytics today.