IBM released its newest version of Cognos Analytics 11.1.3 in July of this summer (see our press release).  The new release includes enhancements to reporting, authoring, dashboarding, data exploration, and its natural language AI assistant, all with the goal of making it easier for non-specialist users to take advantage of self-service business analytics. 
Some of the new enhancements to the report authoring capabilities in R3 of Cognos Analytics include:
New and updated target bar and column visualisations that allow you to track target values against your actuals;
Updated abilities to define drill-through report definitions for new visualisations;
Improvements to how custom filters are set up that include new search functionality and manual input of filter conditions;
New report summary and statistics overview pane which contains key statistics such as number of objects, sources and parameters;
The ability to share reports, dashboards and stories via email and Slack (versus traditional link/URL method) and annotate image snapshots for improved collaboration;
Convert to template functionality that allows saving a report as a style template for future use.
Some of the new features available in dashboarding are:
A new default map style in mapping visualizations with a better look and feel;
A new show detail / show specification of a dashboard object allows you to understand the performance and composition of each dashboard object;
The new AI assistant feature allows users to generate a three-tabbed dashboard based on the three measures it determines to be the most important.
Improved exploration capabilities in this version allow business users to automatically suggest related data visualisations and generate plain English descriptions of the patterns found in their data (Watson Analytics style), such as:
Better filter and explore the relationship UI allows for filtering on the important data fields of interest and hide/show based on strength or other secondary fields;
Ability to turn exploration visualisations into a story – each exploration card is turned into a scene;
Improved visualisation to compare functionality – makes it easy to take 2 data visualisations and generate side by side comparisons for analysis;
The Spiral chart and driver analysis visualisations now support both continuous and categorical targets, allowing exploration of different types of data.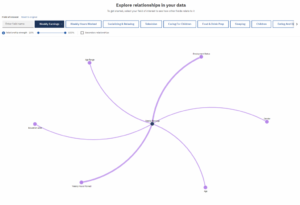 Some of the new improvements in the new foundation of data modeling and preparation include:
Fields in Excel file uploads formatted as currency, dates or percentages are now retained as default data formats inside a model;
Enhancements to numeric data groups, including the ability to set fixed high and low range values as well as improved binning functionality for multi-language group names;
Model validation improvements make it easier to detect, highlight & understand potential issues in your model.
Several new natural language capabilities are now available with the enhanced Cognos AI Assistant, such as:
Ability to use natural language as a filter or aggregate command, for example 'show average weekly sales by region' or 'show top 10 clients by spend for 2019';
Aggregation filters such as total, average, maximum & top/bottom can now be utilised in natural language queries (NLQ) with Cognos;
New type ahead suggestions help guide and propose to users available data columns that can be used as a visualisation;
New getting started commands help new users with their initial query. Commands such as Help, Show and What Impacts help get your users going with NLQ;
Ask the assistant to 'create dashboard' – and it will auto populate a dashboard with some automatically determined key measures & dimensions.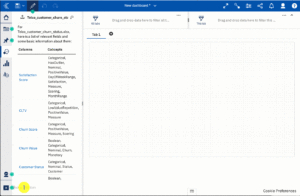 This summer also saw the release of the new Cognos Analytics multi-tenant cloud solution – IBM's low-cost cloud service designed to compete in what is a very competitive & ever-changing marketplace.  Users can start building powerful dashboards, tell compelling data driven stories against cloud and on-premise data sources easily without the need for complex IT infrastructures. Various tiers of per user pricing options are available, depending on how users wish to perform explorations on their data or reporting requirements. User options can be mixed and matched depending on requirements.  Enterprise options are available for more dedicated service or reporting server needs.
Read more about new enhancements of Cognos Analytics 11.1.3 in our press release.  Stay tuned for the next release of Cognos Analytics 11.1.4 in early October 2019 and read all about it in our next issue of News from NewIntelligence.