NewIntelligence holds SAP B1 QuickStart Webinar on Taking your Excel Budget with your Actuals for Reporting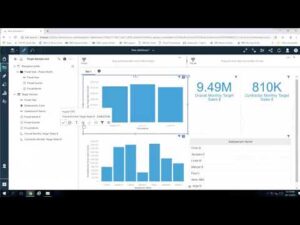 Article published on April 15th, 2019
On April 11th, 2019 NewIntelligence held it's fourth webinar in it's SAP B1 QuickStart series on taking your Excel budget and easily do reporting and dashboarding with your SAP Business One data included using NI's SAP B1 QuickStart, our out-of-the-box fixed cost solution at an affordable price that takes just 2-3 weeks to deliver.
Those who attended this session saw how our solution utilizes IBM Cognos Analytics, which allows each user or group to quickly load an excel spreadsheet with budgets into dashboards and create reports and analyses with no need for IT involvement.
Some of the built-in reporting capabilities of our QuickStart module that were showcased during this webinar included how to:
Report on multiple data sources across the nine different modules;
Load Excel spreadsheets to provide context to your actuals;
Create alerts based on predetermined criteria.
Corey Mendelsohn, President of NewIntelligence, demonstrated how to create a dashboard in Cognos Analytics using information coming from Excel from a budget perspective and comparables with actuals coming in from SAP B1 directly.
He then demonstrated how you can integrate data from your budgets created in Excel and information from SAP B1 in one common area.
To watch the replay of the full webinar, just click on the button below: