NewIntelligence Releases New, Affordable and Flexible Pricing for QuickStart for SAP B1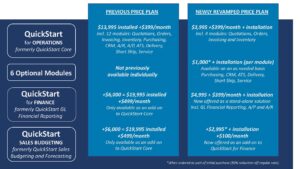 Article published on June 23rd, 2021
MONTREAL, Quebec, Canada, June 23rd, 2021 – NewIntelligence (NewIntelligence.ca), an IBM Gold Business Partner selling IBM Cognos Analytics software and services, is proud to announce the release of a flexible and affordable price plan for its QuickStart for SAP B1 solution.
This change comes at a time when the NewIntelligence team wanted to offer more flexible access to its reporting and dashboarding solution. QuickStart for SAP B1 was developed to empower people to delve deeper into their data to make smart decisions for their organizations. The focus remains the same, working with companies in the integration of IBM Analytics software with a pre-built SAP Business One data warehouse which offers customization and ease of use. Only the pricing structure and modules included with any given price plan have changed.
Read the full Press Release here, including details of the previous and current pricing chart.