NewIntelligence Releases Short Ship Module Add-On for its SAP B1 QuickStart Solution
Article published on December 31st, 2020
NewIntelligence has created a Short Ship module to add on to its SAP B1 QuickStart solution.  NewIntelligence developed their SAP B1 Quickstart in 2017 to help SAP Business One customers better understand, anticipate and shape business outcomes.  NI's SAP QuickStart is an out-of-the-box fixed cost solution offered at an affordable price that takes just 2-3 weeks to deliver.
NI's SAP B1 QuickStart solution currently covers 13 modules, including the newly released Short Ship. It was developed from feedback from SAP B1 customers related to challenges that they were facing when it came to having quick and effective visibility on their short ship reporting.
Our QuickStart solution and Short Ship add-on combined, allow our clients to solve this issue in their SAP B1 environment.  Our new module also resolves challenges such as:
Reviewing outdated information from the previous day: The short ship module allows you to look at live data, pulled directly from SAP B1.
Having 1 report for many Sales Representatives: You can customize your report to see short ship orders relevant only to 1 Sales Representative.
Our new module provides the ability to filter reports to see what items are short for a specific company, which orders are short by Sales Representative. Reports are easily customizable and distributed automatically via the schedule option.
Customize it to your liking! 
Add fields you need and leave out information which doesn't apply to you.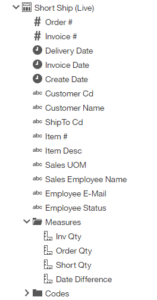 Set it up and forget about it!
Once customized, your Short Ship report can be scheduled. Receive it as often as necessary directly in your inbox. Set it up for individuals of your choice.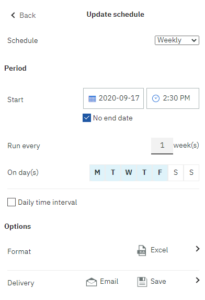 For more information on our SAP B1 QuickStart Solution and our Short Ship module and how to get them, read our latest blog and contact NewIntelligence today.