The new capabilities in this release (available since December 2017 – consult our Press Release) focus on reducing the time and effort required by Cognos Analytics users while adding more intelligence across the entire analytics workstream and strengthening the integration with Planning Analytics.
Here are some highlights of the release:
Latitude/longitude support in dashboarding – When using a map in a dashboard, you can show data for one location, either as a filled region, a point, latitude/longitude point, or a combination of these locations.
Example : Businesses in Hawaii shown as points located by latitude and longitude.   Revenue drives color, profit drives size of the points.
As with the Regions and Points layers, the Latitude/Longitude layer has a series of data slots to drop items into: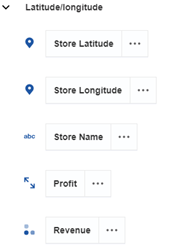 Cognos Analytics uses WGS 84 / World Geodetic System (WGS) encoding stored as numeric data items.  WGS 84 refers to latitudes between -90 and +90 degrees and longitudes between -180 and +180 degrees, suitable for use on a Web Mercator map. Built-in error checking determines if any value falls outside of these latitude and longitude values, then replaces the query values with latitude 0 and longitude 0, mapping the data to a point on the map with no land mass ('Null Island') to allow detection of the error.  Your data must be geocoded before being used within Cognos Analytics.
Dashboard maps now provide the ability to hide/show layers even when they have been toggled off.
Full-screen mode in dashboards = More time savings
The ability to hide the top and side panels completely in a dashboard has been added to maximize available real-estate.  While in full-screen mode, the dashboard remains fully interactive, allowing the user to interact with it without distractions of the panels.
The ability to control the item axis label orientation has been added to visualisations.
Reporting enhancements – Function support for data modules
Unlike in previous versions that did not support the rich function set available in reporting, you can now use your preferred functions against a data module as you would any other data source query.
Improved integration with Planning Analytics – Subset support
Subsets that have been developed by your TM1/PA modeller can be reused instead of having to recreate MDX queries to replicate the query in your BI environment. This is available in both dashboarding and reporting modes. In a dashboard you can use the subset as a filter or as the context for any visualisations. Subsets appear for both data modules and packages if the connection was from Planning Analytics 2.0.x (older versions of TM1 are not supported.)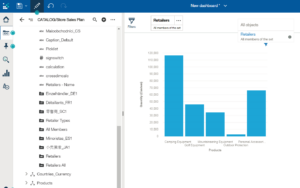 If you use a subset in the filter dock area of the dashboard (as shown above), associated visualizations will be filtered by all the members of the subset by default.
Support for Microsoft Office 11.0.0 – improved third party integration
R9 includes a more formal release for the fix pack R8 had added to support MS Office.  Reporting content can now be accessed through MS Office, including Powerpoint, Word and Excel – a return of an integration feature available in the past with Cognos 8 and 10 now updated to support CA.
Data modules can now have data sources removed from them without having to recreate them scratch every time, as in previous versions.
IBM continues to address and work on users Request for Enhancements (RFE's) to ensure that all of functions that Cognos 10 users utilize and have grown accustomed to using are brought over to Cognos Analytics.  Check out the Business Analytics RFE Community to look at the list of RFE's requested by users for future versions of CA and vote for the features you like to ensure that IBM product development takes your needs into consideration – every vote counts!
If you have not yet migrated to Cognos Analytics, check out the Top 12 Reasons to upgrade to Cognos Analytics (a.k.a. Cognos 11).  NewIntelligence's depth of expertise has enabled us to successfully complete various types of migrations.  Read about our proven methodology and contact us to help you with migrating your IBM Cognos BI environment to the latest and greatest today.