NewIntelligence is taking part in one of its biggest events of the year, the ultimate event for midmarket enterprise business; ASUG Best Practices: SAP for Midmarket happening in Louisville, Kentucky, and we are excited as ever!
According to the ASUG conference website: "This event is perfect for SAP Business One and SAP Business ByDesign users, and will allow an opportunity for all small to medium enterprises to understand SAP cloud solutions available, including SAP S/4HANA Cloud and so much more!"
Have you registered yet? If not we would love to see you there. To save a spot, visit ASUG's website and register.
Meanwhile, Corey Mendelsohn, President of NewIntelligence, and his team are getting all their ducks in order for the upcoming conference taking place October 4th through 6th this coming Fall. From graphic art, to presentation prep, it feels like there are a million and one things to do.
Not only are we sponsoring the event, we will be showcasing our QuickStart solution live at the demo theatre as well as in person at our booth. If you haven't had a chance to see how our reporting and dashboarding solutions work, be sure to come and talk to us, and we'll give you an in-depth tour geared around your business objectives.
We will also be speaking with Trux Accessories' Andrew Fairlie and Dr. Anthony Ofoegbu all about Self-Service Reporting & Dashboards for Midmarket Clients Running SAP Business One.
When: Thur, Oct 06, 2:15 PM – 2:45 PM EDT (30 Min)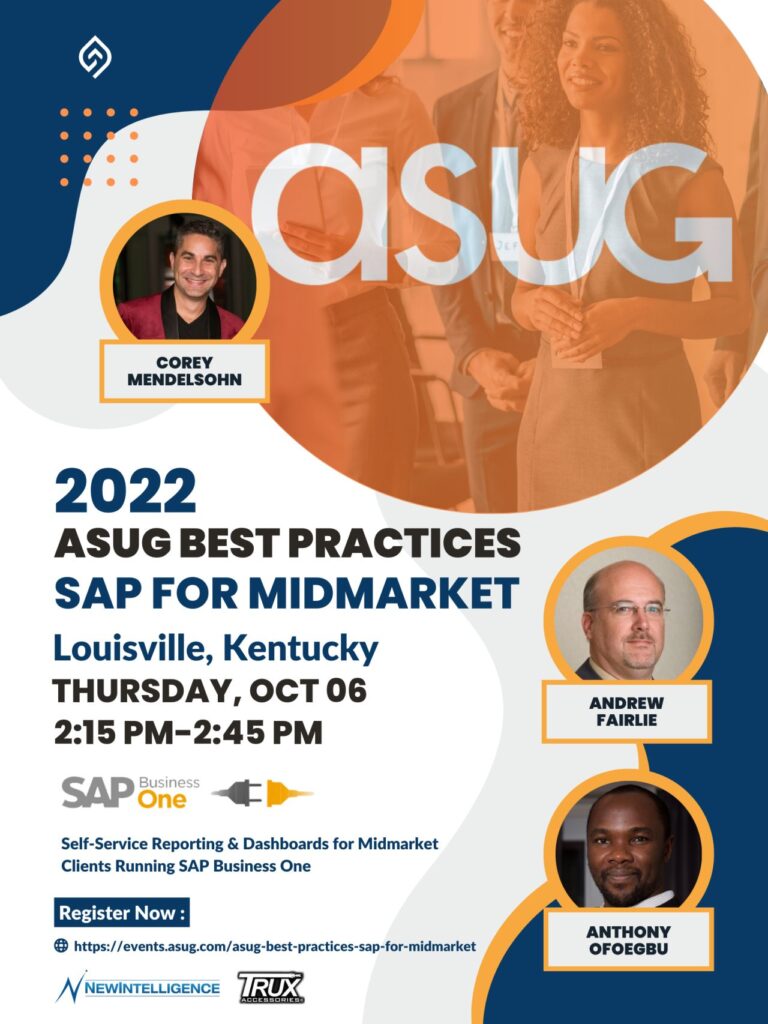 About: To keep pace with the accelerating demand, Trux Accessories chose to enhance its existing SAP Business One solution with new reporting and dashboarding capabilities, which simplified sales forecasting as well as the entire planning and financial reporting cycle. With user-friendly, customizable dashboards and reports containing key business performance metrics, Trux was able to empower decision-makers to make data-driven decisions, adapt faster to market changes and manage rapid growth more effectively. With sales volumes increasing month over month over the last three years, the new SAP Business One enhancement allowed them to triumph over the growth challenges they faced.
So come visit us at our booth at the ASUG Best Practices: SAP for Midmarket or listen to our session with Trux Accessories on October 6th! If you want to follow our journey, as we get ready, make sure to follow us on LinkedIn.
We look forward to seeing you there!