Welcome to the wonderful world of SAP Business One! As a valued user, you already know the power and flexibility that this comprehensive business software package provides. Now, we are excited to introduce our newest addition – the Drafts Module – from QuickStart, designed to help you have better visibility on your draft orders, create better reports and get insights faster than ever before.
Our QuickStart solution for SAP B1, powered by IBM Analytics offers easy-to-use features such as drag-and-drop dashboarding with updates from your data source and scheduled reporting on all major content areas, you can generate tremendous value from the Drafts module without sacrificing accuracy or precision. Get ready to experience an elevated level of visibility into your organization's performance with QuickStart for SAP B1.
The QuickStart Solution for SAP B1: Enhancing Efficiency for Operations & Financial Professionals

Under Operations, our QuickStart solution for SAP Business One revolves around four essential elements: Quotations, Orders, Invoices and Inventory. As we continuously strive to meet the evolving needs of our customers, we are constantly introducing new modules to ensure a seamless experience.
With over 20 modules at your disposal, our QuickStart solution empowers professionals in Operations and Finance to effortlessly manage their reporting and dashboarding requirements. By leveraging these adaptable modules, users can focus on their strategic strengths, without being hindered by complex processes.
From Concept to Reality: Exploring the Potential of SAP B1's Drafts Module
We are excited to announce the latest addition to our QuickStart solution: the 'Drafts' module. This module provides visibility on drafts within SAP Business One, offering a unique perspective on the ordering process. Some of our customers have embraced this module creatively, using it as a pre-emptive step before finalizing their orders – for example as an order that has not yet been approved. By incorporating drafts into your system, you can implement a sophisticated approval process, ensuring that orders are reviewed and approved by the appropriate management personnel. Until this approval takes place, the order remains as a draft, allowing for flexibility and modifications to be made.
SAP Business One refers to these documents as drafts themselves. This terminology highlights their distinct nature from regular orders. This feature enables you to work with partially completed information, giving you the flexibility to make changes and complete the order later.
Imagine being able to save a partial order as a draft, a temporary document that can be modified before finalization. This module offers the perfect solution for those who require reporting visibility over their ordering process with drafts.
To learn more about the exciting capabilities of our QuickStart solution and the 20+ modules that can revolutionize your operations, click here.
Streamline Your Orders: How the Drafts Module Transforms SAP B1 Reporting
Discover how the Drafts module helped one of our valued customers get more visibility from their reporting.
Our client needed a seamless approval system within SAP Business One to help with the way they monitor and approve their own orders. With the implementation of a draft feature, a comprehensive review process was established to help them with their day-to-day business requirements. Once a draft was approved by a senior member of their team, orders could be seamlessly transitioned into official status as per their desired process. They chose to use this feature to introduce preliminary orders for customers undergoing credit checks, ensuring their orders were placed on hold until credit verification was complete. As such, they used drafts as a convenient way to check on preliminary orders before they moved along in the approval process.
During the challenging times of COVID, our client faced a surge in orders, resulting in a backlog. However, they encountered an issue – numerous orders from customers with varying credit limits. By utilizing drafts to delay the approval process while conducting credit checks, the client was able to address this predicament.
For instance, if a customer had a credit limit of $100,000 and had outstanding orders amounting to $90,000, but placed a new order worth $30,000, their total orders would exceed their credit limit by $20,000. Drafts served as a means of controlling which orders were processed, ensuring credit limits were respected.
While drafts were initially intended for temporary purposes, allowing sales reps to view drafts that were yet to be approved, our system now differentiates between drafts and orders in a clear and simple way.  This new integration of Drafts into QuickStart gives reporting and analysis capability to the end user.
Drafts Module Deep Dive: Better Visibility for Reporting and Dashboarding
Curious about the drafts in your system? Easily filter your search by time period, providing valuable insights into your order pipeline.
Take control of your business operations with QuickStart for SAP Business One. Experience the power of efficient Draft analysis for improved credit management. Explore our new module today!
Our client utilized drafts as a means of controlling which orders were processed, implementing a sophisticated make-shift approval process for the way they run and review their orders. As such, drafts can serve various purposes. Sales representatives wanted to view drafts in the system before they were approved, as they are famously known as temporary placeholders. Fortunately, our system now allows us to distinguish between drafts and orders, providing the clarity needed for such analysis.
For instance, let's filter the data for 2023 and examine it monthly, starting with August.

As an example, we can observe that there are $490,000 worth of drafts in the system.

We have the capability to analyze this information by customer, item, or sales representative. These drafts exist in the system and can be viewed in the same way as orders, with the distinction that they haven't been approved yet. They are simply draft documents.
In August alone, there are $1.6 million worth of orders in the system, of which $490K are drafts. This amounts to approximately 30% of the total orders for the month.
By default, if we don't include transaction type, the data is consolidated. However, if we bring in transaction type, we can break it down and examine it based on various properties such as the salesperson, customer, or item.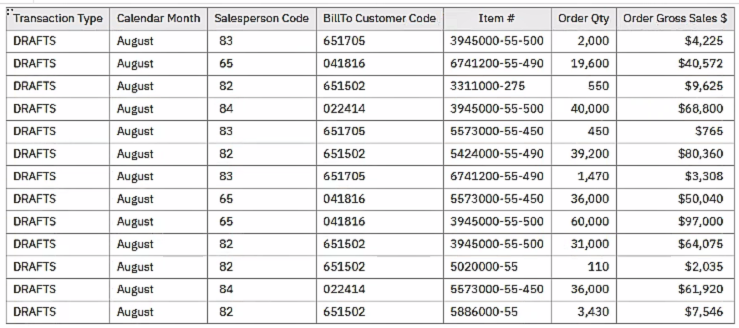 Drafts serve a specific purpose and are like orders, but not yet finalized. They may be pending approval for credit purposes or for other reasons. This feature is now part of QuickStart for SAP Business One, enhancing reporting and dashboarding capabilities.
Conclusion
The new Drafts module for reporting and dashboarding from QuickStart for SAP Business One reveals the potential of power ERP solutions to streamline and enhance both operational processes as well as financial reporting. This new module offers a wealth of features and benefits, from enhancing transparency into the pre-approval process for sales reps to providing better visibility in reporting and dashboarding. With over 20 modules available, and growing, QuickStart SAP B1 supports end-to-end operations for businesses working in this powerful ERP system.
An investment in QuickStart can deliver tremendous results in efficiency, accuracy and profitability in as little as 2-3 weeks. So, take the next step and reach out to our dedicated team of professionals who are on standby to assist with implementing the modules you need for your reporting needs! As always, if you have any questions or need additional information – we're here to answer them!
How do you use Drafts for reporting and dashboarding? Do you have any unique strategies that help with your reporting processes? Let us know what new modules you need for SAP Business One and we'll take care of the rest.