As businesses grow, they need a complete visibility into their order fulfillment process. QuickStart for SAP B1 offers Fulfillment Reporting to help companies keep track of what's in demand and where their orders are in the supply chain. This informative module helps you quickly identify bottlenecks that can be addressed to improve the shipping experience and avoid costly penalties. Get all the details about how this powerful tool can modernize your order management with fast, effective reporting thanks to QuickStart!
Discover Your Fulfillment Rate with QuickStart for SAP Business One
Understanding your fulfillment rate is essential for any business looking to optimize its operational efficiency. That's why we recently developed a new module for SAP Business One that provides unparalleled visibility into your orders and invoices. With just a click, you can now generate automated reports that analyze your fulfillment rate in granular detail.
Short Ship: The Precursor to Fulfillment
But before we dive into the fulfillment module, let's first briefly explore the short-ship module. Short-ship is the precursor to fulfillment and only shows you what's not being fulfilled, such as a shortage in the shipment. The fulfillment reporting module is a derivative of the short-ship module, providing you with visibility into your customer's orders and how much was missing or short from their expected order.
How Fulfilment works:
Unlike short-ship, which focuses solely on what's not being fulfilled, fulfillment sheds light on the entire order and how much of it was fulfilled. For example, using our fulfillment module, you can easily track order fulfillment rates for each product. Let us examine a case where a customer places an order of three items, where each item has an order quantity of 100, and of the three items ordered, one item is partially fulfilled for a quantity of 75. The other two items are fulfilled for the original order quantity of 100.  In this case, the total order quantity of all three products is 300 but we can only fulfill a quantity of 275. This would result in a fulfill rate of approximately 92%.
Get the full picture of your business's fulfillment rate with our innovative QuickStart module for SAP Business One. You'll be able to see the entire order and how much of it is being fulfilled, giving you everything you need to optimize your business processes and maximize efficiency.
Discover critical fulfillment insights quickly and easily with QuickStart for SAP Business One.
The chart below gives you an example of how you can instantly preview data by Order, Invoice, and Short while analyzing the fulfillment progress for each line item in real-time. Plus, with the comprehensive summary view, you can evaluate average fulfillment figures for all orders. Make better decisions with QuickStart today!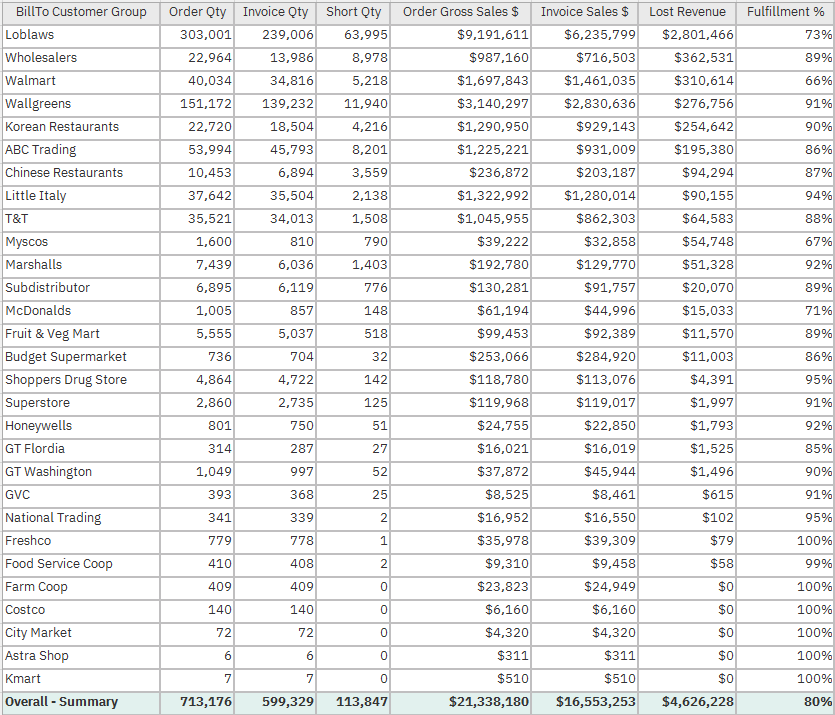 Unlocking Your Business's Potential: Understanding Fulfillment Rates
 Don't let missed deliveries hurt your bottom line.
With QuickStart for SAP Business One, you can monitor your fulfillment rates and avoid costly penalties. Service Level Agreements (SLA) with customers can be as high as 95%, so it's essential to stay on top of your fulfillment rates.
Our reporting module enables you to analyze your fulfillment rates at every level, from orders and invoices down to specific products and items. That way, you can identify where you're losing revenue and take corrective action.
If a store orders a certain number of cases but you're unable to ship them because of stock shortages or supply chain issues, it still counts as an order. However, failure to fulfill the order on time can lose you a valuable customer as they turn to another supplier depending the urgency. With QuickStart, you'll have a bird's eye view of your fulfillment rates and be able to identify potential problems before they escalate.
When you're dealing with large organizations and generating high volumes of orders, it's essential to comply with their regulations and rules. Failure to do so can result in hefty penalties that you don't want to pay.
Maximize your revenue and reduce the risk of lost revenue by implementing QuickStart for SAP Business One's fulfillment reporting module. Don't wait until it's too late: Start tracking your fulfillment rates today.
The bottom line.
Keeping your orders on track with Fulfillment Reporting from QuickStart for SAP Business One is an easy and cost-effective way to ensure customer deliveries are accurate. You have the assurance that all shipments will fill their on-time delivery rate, helping you avoid any costly penalties or revenue loss.
With QuickStart's customizable modules, you can easily access critical fulfillment insights to see exactly what shipments are being fulfilled and when. Stop worrying about the technical complexity of building these reports yourself ─ QuickStart has done the work for you! Get better visibility into your order fulfillment rates with Fulfillment Reporting from QuickStart for SAP Business One and keep your business in flow. Choose QuickStart today to help you optimize your SAP B1 infrastructure and make sure missed deliveries don't hurt your bottom line.