NewIntelligence Holds Webinar on new GL Financial Reporting Add-On Module for SAP B1 QuickStart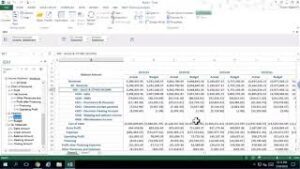 Article published on July 17th, 2019
On July 10th, 2019 NewIntelligence held a webinar on their new GL Financial Reporting Add-On Module for their proprietary SAP B1 QuickStart solution. Our solution up until recently covered 9 modules. NewIntelligence is continually adding new functionality to its SAP B1 QuickStart and passing the benefits on to their clients using this solution.
This Financial Reporting module was developed from customer feedback related to financial reporting challenges that SAP B1 customers were facing. Over the course of this webinar, we showed how users can now have access to full-blown GL reporting coming from their income statements and balance sheets with our QuickStart solution and new Financial Reporting add-on.
This is the seventh webinar in our SAP B1 QuickStart webinar series.
During the demo session of the webinar, Corey Mendelsohn, President of NewIntelligence, showed how you can explore GL income statement and balance sheet information in Excel such as GL Periods, Chart of Accounts, Versions (Actual versus Budget) and GL measures using our SAP B1 QuickStart solution and our new Financial Reporting add-on module.
Corey then demonstrated how to create an exploration in Excel with income statement information that allows you to see actual versus budget by period and drill down on revenue down to the individual GL account.  He also showed how to create an exploration with balance sheet information and drill down to the GL account level in any given measure, such as Assets.

Corey continued the demo by showing how to work with pre-created income statement reports in IBM Cognos Analytics with NI's SAP B1 Quickstart and Financial Reporting add-on module. We first looked at an actual versus budget income statement and then at a report showing debits and credits for a specific period, showing how you can filter on marketing expenses, broken down by GL account, and how to add additional information to the report.

To watch the replay of the full webinar click on the button below: