IBM is continuing with providing new releases of Cognos Analytics 4-5 times a year and released 11.1.5 in December 2019.  While not a major release, this release does provide several key enhancements and new features that users will want to take advantage of.
Here is a summary of what's new in this release (for the full list of what's new and changed, see our press release):
Dashboarding Enhancements
Drill Through from Dashboard to Dashboard
Dashboards can now utilize other dashboards as drill-through targets. IBM did a great job of making this extremely straightforward so end users should have no problem with it.  When you create two dashboards that share at least one data source and establish a Drill-through definition, all you need to do is select a visualization element and choose the drill-through icon in the source dashboard.  No mapping of parameters is required.  The target dashboard will open and a new filter will appear in the 'All tabs' filter section and has been filtered by the values passed from the source.
Customize Tabs
You can now move tabs around the dashboard and stylize each one, for example move all of your tabs to the left side or format one or more of your tabs by customizing the color of text, include icons, etc.
Show or Hide Rows in a Crosstab Visualization
Users can now work with features they're used to from Excel, like showing/hiding columns, customizing between null values and missing values, and more.
Enhancement to Forecasting (also available in Explorations)
Several enhancements are made to the forecasting algorithms in IBM Cognos Analytics.  The forecasting models are fine-tuned since the previous release to provide more accurate forecasts.  In short, these improvements result in a 20% accuracy improvement.
Search and Zooming in on Maps (also available in Reporting)
When you use a map in a report, you can search and automatically zoom into items that are matched on your maps. For example, small regions that are spread over a large area.
Reporting Enhancements
Schematics
Schematics are undoubtedly the eye-catching new feature in Cognos Analytics 11.1.5. These are visualizations that can map data into a graphic representation.  Schematics allow Cognos to dynamically visualize data on an image – for example a stadium or airplane seating chart, a hospital floor plan or a diagram of a machine.
One interesting feature of Schematics is the ability to create 'views.' Views enable end users to automatically filter the schematic to render only those sections that interest them.
Multiple schematics can be bundled together into a package, which allows report authors to select from a library of related schematics. These packages are managed just like the custom visualizations that debuted in Cognos Analytics 11.1.4.
Schematics are currently only available in reporting.
For more info on how to create and distribute schematics check out this link.
Custom Visualizations Now Support Nested and Hierarchies
Custom visualizations now support hierarchical categories. You can use hierarchical categories by using the Class Segment in your custom visualization.
Modeling Enhancements
Members in the metadata tree (also available in Dashboarding and Explorations)
As of Cognos Analytics 11.1.5, members are now visible in the data tree regardless of source type. Yes – even for relational sources. You can drag and drop individual members into visualizations, use them to build sets, etc. Even against excel spreadsheets. This change applies across the entire UI (including dashboarding and explorations), not just data modules.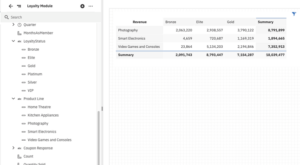 Data Modelers can also control the default behavior at the data module level. Deciding if members should be shown vs a search link by default, what should be the default number of members to load, and as well, the behavior to load more members – if we load more (equal to the limit) vs Search.
Enhanced UI for viewing Custom tables
IBM has taken all the scattered virtual table/view building functionality and very smartly bundled it together into a new, clean interface called 'Custom Tables.' From custom tables you can easily blend tables or spreadsheets from any source together while understanding at a glance how all that blended data is related.
Miscellaneous Items
Samples
Base samples easier to find, organized into 3 categories now – by business function, feature and industry.
Save reports to cloud storage
You can configure Cognos Analytics to connect to a cloud storage service that is offered by a third-party company and your users can save reports to the cloud.
Is now the best time to upgrade?
Though not a major release, if you are on version 11.1.3 or earlier, we strongly recommend upgrading to 11.1.5 now.  With the major 11.1.4 release and what is included in 11.1.5, you are missing out if you are on an earlier version!  See what was new in 11.1.4.
We can help you with your upgrade.  Schedule a call with us today to plan your upgrade or to see a demo of what's new in Cognos Analytics 11.1.4 and 11.1.5.