The arrival of the latest version of Cognos is upon us. Like any good software update, its users and adopters want to know what's new? Here is a bit more about what IBM is calling the best Cognos release ever delivered.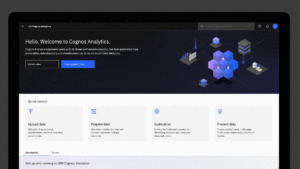 Home and Content Navigation
Many have already seen the Carbon X design system across various IBM platforms. This sleek, modern look and expanded functionality will be extended to Cognos Analytics (in Light and Dark mode). A new Welcome Section and video-enabled homepage allow users to learn more about Cognos. If some users need quick access to video learning or need a hand from the Get Started tab (Learning Pane), these options are right at their fingertips on the home page.
The homepage offers Quick Launch buttons for rapid access to creating content and customized based on your user capabilities. The Recent tab allows you to revisit what was on your docket the last time you visited. The welcome section can be closed for quick access to your content making for a user-friendly interface.
You can access your content by clicking the hamburger menu on the left-hand side of your screen. This menu includes access to the Home, New, Upload Files, Content, Recent, and Manage sections.
Clicking on Content will lead you to a full-screen view, complete with tabs for My Content, Team Content, Samples, and any custom folder you may need.  The interface also remembers the last tab you were consulting when you return to Cognos. Content can be displayed in tiles or list view. You now have the ability to click a Refresh button, a useful tool for any collaborative content that might've been modified by a teammate. As always, Filters give many sorting options, a Create button allows for quick access to creating new content without having to return to the main menu, and the Search option lets you find the content you need quickly. Multi-select allows you to perform batch actions on desired content and Details gives you the ability to see individual content details in a collapsible pane without having to open content.

If you're an administrator and want to set your users up with a seamless intranet feel, you will be happy to know that customization is possible. Change your toolbar colour, add a company logo, company name, banner, and even customized text. Creating extensions allows you to add role-based tiles to the welcome section.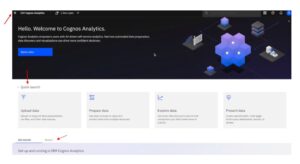 Mobile
Remember our recent blog post about the Cognos Analytics Mobile app? Android support and 11.1.7 FP2+ on-prem support are now available.
Faster loading dashboards
So many important business decisions are based on accessible and accurate data. Time-sensitive and critical information relies on faster and constantly improved loading times. A significant improvement is the 59% faster load on the First Query, going from 27 to 11 seconds. Here are some other notable improvements:
–              Metadata performance improvements
–              Glass initial load time optimization
–              Reduced JavaScript footprint
–              Reduced CSS duplication
–              Deferred feature loading (in the background)
–              Optimized queries
New Visualization: Boxplot and Radar
The Boxplot and Radar visualizations were already available in reporting and have now been added to dashboards. Custom visualizations can be developed and added.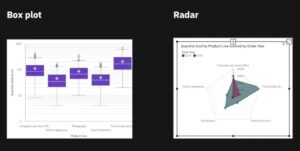 About Internet Explorer 11
Much like Microsoft, IBM's Cognos Analytics will no longer be supported on Internet Explorer 11.
Microsoft Internet Explorer 11 deprecation
–              No IE11 support in 11.2.x
–              No conformance update for Query Studio and Analysis Studio
–              Powerplay Studio to support Chronium Edge
–              PDF drill-through support in Chome, Chronium Edge and Firefox
–              Active Report viewer
AI assistant and forecasting support for OLAP cubes
If you are using TM1, you can ask the AI assistant questions which will prompt the autogeneration of dashboards. Forecasting is also doable in just 1 click, taking into account multiple functionalities to create unique insights via Watson.
There are more changes coming with the new version of Cognos 11.2.0, including Improved Watson Studio integration, S3 for TLS certifications, and more. Visit this link to read more from the IBM Business Analytics Community portal.